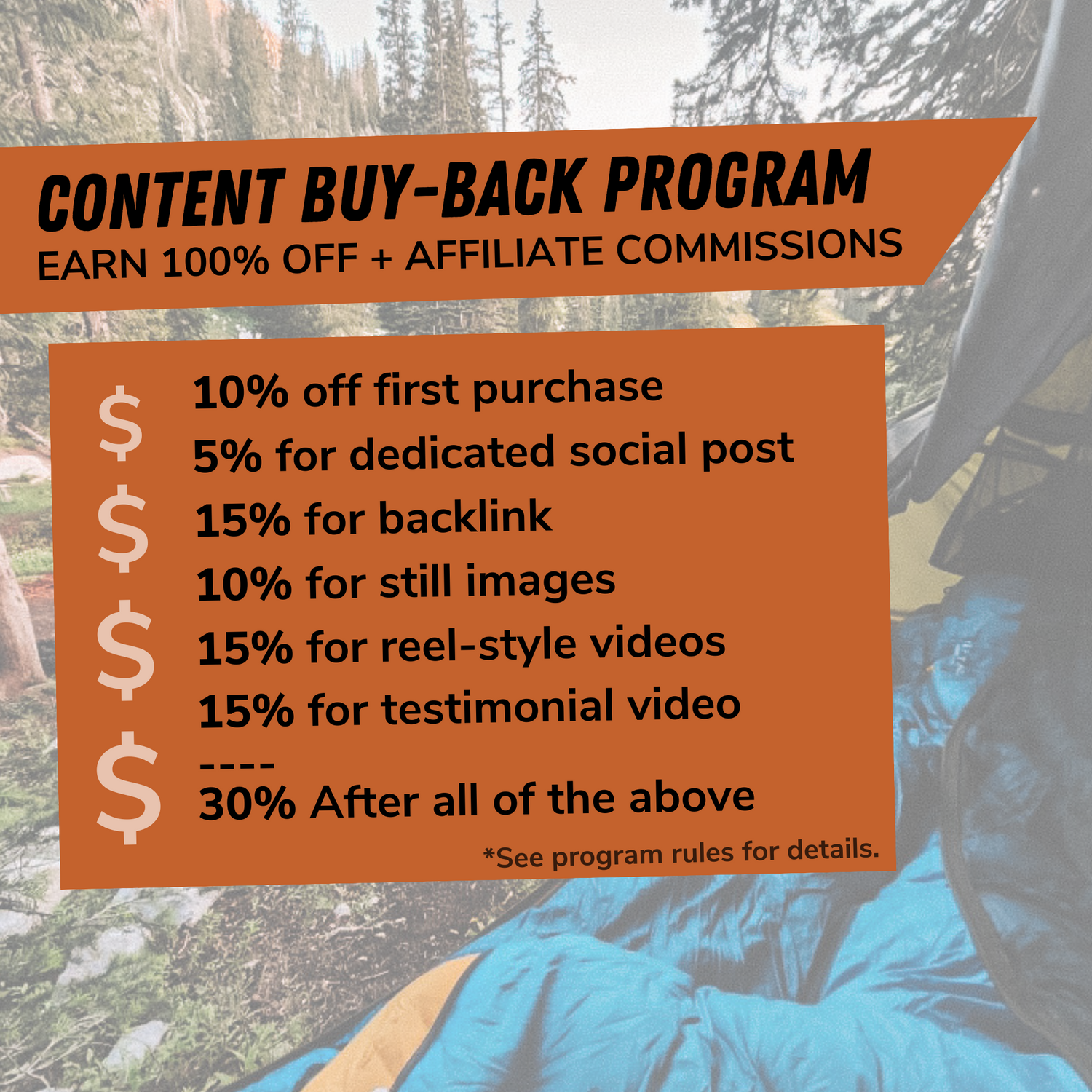 Content Buy-Back Program
A way for content creators to save and potentially earn money while promoting the Haven Tent.
Because it's too good to NOT share!
How The Program Works
Applying is quick and easy:
Apply through the Haven Creators Network.
If approved, you'll get your 10% off discount code and affiliate link.
Purchase up to one Haven Tent kit (Standard, XL, or Safari) and one set of accessories and start creating!
Submit completed links or photo/video files here for review and to be refunded
Including your immediate savings, this program provides a total refund of 100%. And with our affiliate program, you can continue to earn as you're out making sleep the highlight of camping.
Earn refunds by creating content!
5% Back for Dedicated Post on Social Channels

As soon as you share your Haven Tent on your socials and tag @haventents, we'll refund 5% of what you paid for your order. This can be anything -- post, reel, TikTok, YouTube video, etc. Get creative!

15% Back for Backlink from non-social site

Earn 15% more when you add a do-follow backlink to haventents.com to a blog, article, or other non-social media site.

10% Back for still images

Send us your photos and we'll refund 10% of what you paid for your order. We are looking for a minimum of 30 images from a minimum of 3 different locations. See below for details and examples.

15% Back for 2-3 Reel-Style Videos

Feeling extra creative? Create some reel-style videos and send 'em our way. We'll refund 15% back for these. See below for details and examples.

15% back for UGC Testimonial video

One of the best ways to share your Haven Tent is to simply talk about your experience with it in an awesome video. Send us one of these videos and we'll give you 15% back. See below for details and examples.

30% Back for your first affiliate sale

After you submit all of the content types (dedicated social post, backlink, still images, reel-style videos, and testimonial video), we'll issue a 30% refund. Combined with the other refunds, you've just recouped your entire purchase!

Full Refund + $100 for any video that gets 1 Million Views

Go viral! Any video you post that gets 1 million views or more will be rewarded with a full refund and a $100 bonus. Great content is significantly more likely to bring in those affiliate sales, so bring your A-game!
Terms and Conditions
Approval of application is considered on a case-by-case basis. Haven Tents generally determines eligibility for the program based on number of followers, engagement, and/or intent. Haven Tents does not guarantee approval into the Content Buy-Back Program.
Refunds are available for up to 1 full Haven Tent kit and one full set of accessories.
Refunds are available in USA, Canada, and EU.
Only eligible for refund if original order is placed from haventents.com or europe.haventents.com
Only eligible for refund if you have both applied and been approved into the Content Buy-Back Program via the Haven Creators Network
Refunds are paid based on deliverable contents, delivery timeline, and quality.
Must be 18 years old or older to apply
Haven Tents retains all usage rights for content submitted and can use content in organic, paid, or other marketing materials at their own discretion
Content must be submitted within 6-months of product delivery to be eligible for a refund